September 26, 2017
by Anna Herd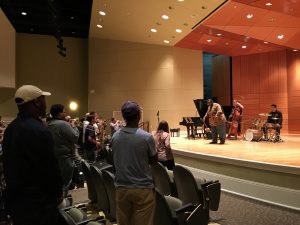 Chestnut is a critically acclaimed jazz pianist, composer, and producer from Baltimore, Maryland. Several of his albums have made it on the Billboard Jazz Chart's Top 10 list, and he has recorded with many celebrated artists, such as Dizzy Gillespie and Bette Midler.
"Cyrus is one of the most prominent jazz pianists performing today," said Michael Worthy, associate professor of music.
Worthy said the biggest take away from Chestnut's clinic was the importance of training your ears to connect the melodies that you hear in your head with your instrument.
During the clinic, two students were chosen to come on stage with Chestnut to play under his guidance. One of the students was Liam Mooney, a freshman working towards a bachelor's degrees in music education.
Mooney, a bass player from Chattanooga, Tennessee, said, "It was a neat experience. I think it will help me a lot in the future."
He said that he learned a lot from the experience, and feels that he is better equipped to be a jazz bass player.
"It is such a great opportunity for our students to get to engage with renowned artists from around the world," said Worthy. "The artists that the UM Music Department brings in are the best of the best and are so willing to share their knowledge with our students."