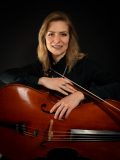 Instructor, Cello
229 Music Building
Dr. Christine Renée Kralik is the Cello Professor at the University of Mississippi where she teaches applied Low Strings and Music Appreciation courses. Previously she was the adjunct cello instructor at Angelo State University in San Angelo, Texas. Dr. Kralik is a thriving young professional cellist who received her Doctorate of Musical Arts with an emphasis in cello performance from Texas Tech University in May of 2018. She holds a Masters in Music from the Cleveland Institute of Music and a Bachelor of Music from the University of Utah, where she was also named as the Outstanding Senior. She studied cello performance with Jeffrey Lastrapes at Texas Tech University, Cleveland Orchestra cellist Richard Weiss at the Cleveland Institute of Music, and Utah Symphony cellist Pegsoon Whang at the University of Utah.
Dr. Kralik is the principal cellist of the North Mississippi Symphony and the LakeRidge Chamber Orchestra in West Texas. She was previously a member of the Lubbock, Amarillo, and Midland-Odessa Symphonies. Along with her active orchestral career, she has performed in numerous recitals with faculty and students all over the country, participated in premiere recording sessions, performed as a TMEA soloist, a cello soloist with ballet productions, string quartet outreach concerts, and many other collaborative performances.
Along with holding a busy performance schedule, Dr. Kralik finds great joy in teaching. She enjoys working with the cello and bass students of the University of Mississippi, as well as cello students in the surrounding area and from all over the world.
In the summer of 2018, Dr. Kralik joined the faculty at the Tennessee Governor's School for the Arts, where she works closely with students in cello master-classes and sectionals. Dr. Kralik enjoys performing in the exciting faculty chamber music series throughout the duration of the Governor's School, performing works as various as the spectacular Brahms piano quartets, Shostakovich piano trio no.2, to Bartok string quartets, and Schoenberg's Verklarte Nacht. Dr. Kralik also returned to teach cello for a third summer at the Interlochen Center for the Arts in Michigan. Dr. Kralik performs on a German Wilhelm Hammig cello dated 1907 and an unnamed French cello bow thought to be from the Pierre Simon School circa 1880.