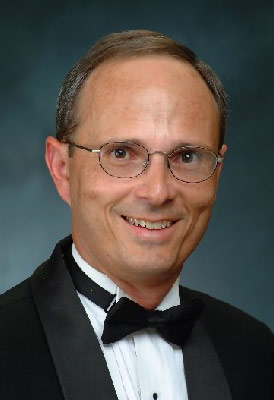 Director of Choral Activities
121A Music Building
Dr. Donald Trott is Professor of Music and Director of Choral Activities at the University of Mississippi. He received his Bachelor of Music Education degree cum laude from Westminster Choir College in Princeton, New Jersey. He obtained both the Master of Music degree and Doctor of Musical Arts degree in choral conducting from the University of Oklahoma under the guidance of Dennis Shrock. While at Westminster, he sang under notable conductors such as Leonard Bernstein, Raphael Kublik, Eric Leinsdorf, Joseph Flummerfelt, and Dennis Shrock. Following degree work, he taught at Lawton Senior High School in Lawton, Oklahoma, Rogers State College (now Rogers University) in Calremore, Oklahoma, and Longwood College (now Longwood University) in Farmville, Virginia.
His research into performance practice of the late eighteenth century resulted in two articles published in the Choral Journal and two lectures at regional and national College Music Society conventions. He produced a third article for the Choral Journal based on interviews with Alexander Bernstein, son of Leonard Bernstein; a fourth article, entitled "Choral Music in the White House," appeared in the summer 2012 issue. His monograph, Nineteenth Century Choral Music: An Annotated Bibliography of Music Suitable for College and University Choirs, was completed in 2010 and is sponsored and published by the ACDA. More recently, Dr. Trott compiled and edited Conducting Men's Choirs. Published by GIA Publications in 2020, Conducting Men's Choirs is a practical guide to working with male choirs at all levels with contributions from eighteen nationally recognized experts in the field.
Dr. Trott's choirs from Longwood College performed at VMEA state conferences and in the concluding performance of the 1996 ACDA Southern Division Convention. His choirs toured annually to venues that included the Cathedral of St. Patrick, Cathedral of St. John, the National Cathedral and the White House. At Ole Miss, the Concert Singers under his direction appeared at the 2005 Mississippi State Convention of the MENC/ACDA. In February 2006, the choir appeared at the ACDA Southern Division Convention, and in March 2007, the singers performed at the 2007 ACDA National Convention in Miami, Florida. In March 2010, the Concert Singers were invited to join with LSU and Loyola (New Orleans) and the Memphis Symphony Orchestra under the direction of Ken Fulton in a performance of the Brahms Requiem at the ACDA Southern Division Convention. Both the University of Mississippi Men's Glee and Concert Singers have appeared on MMEA/ACDA state conventions.
Ole Miss choirs have toured the northeastern United States on two occasions; 2003 and 2008 with performances in St. Patrick's Cathedral (New York) and Cathedral of the Immaculate Conception (Washington, D.C.). In 2010, singers from Ole Miss took an international tour with stops in Paris, Munich and Salzburg.
Masterworks have been an important part of the repertoire at Ole Miss; these include Bach's Mass in B Minor, Beethoven's Choral Fantasy and Ninth Symphony, Brahms' Requiem, Faure's Requiem, and Handel's Messiah.
Dr. Trott is a past-president of the Southern Division of ACDA, past-president of Virginia ACDA and has held positions with the R&S areas of Men's Choirs, Youth and Student Activities; he is currently a member of the Research and Publications Committee.