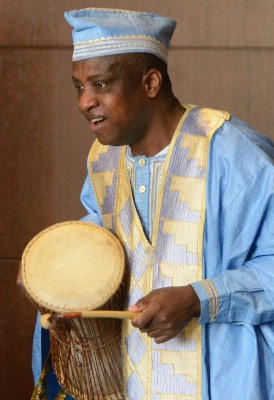 Professor of Music
236 Music Building
George Worlasi Kwasi Dor, holder of the McDonnell-Barksdale Chair of Ethnomusicology and professor of music, holds a 1977 diploma in music education from Ghana National Academy of Music, a 1986 B.Mus. and 1992 M.Phil. in music from the University of Ghana, and a 2001 Ph.D. in ethnomusicology from the University of Pittsburgh. He taught as a part-time faculty member (2000-2001) and teaching fellow (1996-2000) in the department of music, University of Pittsburgh, and as a lecturer (1993-1996) in the University College of Education, Winneba, Ghana. Dor was also the resident conductor for the Ghana National Symphony Orchestra (1996), national choir director of the Evangelical Presbyterian Church, Ghana (1996), and music director of Community of Reconciliation Church, Pittsburgh (1999-2001). Dor is co-editor of Dynamics of Creativity and Knowledge in African Music Traditions: A Festschrift Honoring Akin Euba (2005); his widely read book, West African Drumming and Dance in North American Universities: An Ethnomusicological Perspective, was published in 2014 by the University Press of Mississippi.
Dor bases his published articles, book chapters, and presentations on inductive research he has conducted on the themes of African music theory, African art music, African indigenous knowledge, creative processes, the African diaspora and dance drumming. In Ghana, Dor is widely recognized as a composer, performer, and teacher of contemporary Ghanaian art music with over sixty choral pieces, a symphonic suite, and five one-movement orchestral and other works to his credit. As a performer, Dor plays African drums, cello, alto saxophone, and keyboard, and has founded and directs the University of Mississippi African Drum and Dance Ensemble. He teaches courses in world music, a service course available to all undergraduates, graduate courses on world music, music cultures of Africa and the African Diaspora, as well as seminars based on topics in ethnomusicology.
As an ethnomusicologist, composer, and director of the Ole Miss African Drum and Dance Ensemble, Dr. Dor has initiated and coordinated major milestone concerts at the University of Mississippi for which he composes commemorative works. The celebratory concerts of Ghana's 50 Independence Anniversary in 2007 and The 50th Year of Integration of/at University of Mississippi in 2012 remain indelible historic events. Dor's other concerts are equally expressive outlets for intensifying awareness of cultural diversity–internationalization and multiculturalism on campus. He is also the recipient of the 2016 University of Mississippi Lift Every Voice Award for his leadership in promoting diversity and culture on campus. Dor is an active member of the Society for Ethnomusicology, International Council for Traditional Music, African Studies Association, and Intercultural Music Arts Association.