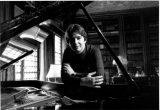 Canadian pianist Ian Hominick, Professor of Music, began studying piano in his native Nova Scotia, later attending Mt. Allison University in New Brunswick where he was a student of Jamie Syer and Patricia Grant Lewis. Continuing his studies in the United States under the tutelage of internationally acclaimed pianists, Jerome Rose and Earl Wild, he earned the Doctor of Musical Arts degree from Ohio State University in 1991 where he served as assistant to pianists, Earl Wild and Tchaikovsky Competition silver-medalist, André Laplante.
An active soloist, accompanist, adjudicator and teacher, Mr. Hominick maintains a busy schedule of concerts and piano masterclasses across the United States, Canada and Europe. He has been a featured soloist on series' in Chicago, Cincinnati, San Diego, Ottawa, Montréal, Toronto, Vancouver, Milwaukee, and New York City. Mr. Hominick has also appeared as soloist on the Dame Myra Hess Memorial Concert Series, Chicago-Chautauqua Series, American Landmark Festivals, and has appeared as guest artist for Saskatchewan's Rites of Spring Festival, the Hornby Festival Society in British Columbia and the American Liszt Society Festival.  His performances have been broadcast both regionally and nationally on CBC Radio, Radio-Canada and National Public Radio in the United States.  He is also a frequent guest for Chicago's WFMT Radio program "Live from WFMT."
Mr. Hominick's premiere solo recording of the works of the legendary romantic pianist, Sigismund Thalberg, was released by Titanic Records in 1995 to glowing reviews from the critics and a nomination for "Best Classical Recording" in the East Coast Music Awards. His second CD "Off the Beaten Path" featuring works by several rarely-heard classical and romantic composers was released in January, 2010 on MSR-Classics.  All Music Guide writes, "It is not unlike listening to Earl Wild … based on both its program and the fine quality of the playing." Mr. Hominick's third CD featuring five sonatas of Muzio Clementi was released on MSR-Classics in 2014 as one of WFMT Chicago's "recordings of the month."
A dedicated teacher, Mr. Hominick has been Visiting Artist at the University of Newfoundland and has taught on the faculties of Otterbein College, the Wisconsin Conservatory of Music, De Paul University, and Lake Forest College.   He has also served on the national piano jury for Canadian Music Competitions and the Hong Kong Schools Music Festival in China.  Mr. Hominick joined the piano faculty at the University of Mississippi in 1999. He is Past-President of the Mississippi Music Teachers Association, Director of the Piano Discoveries Summer Camp, Artistic Director of The World Championship Old-Time Piano Playing Contest and Festival and full professor of music and piano area head in the University of Mississippi Department of Music.
[ Personal home page: www.ianhominick.com ]