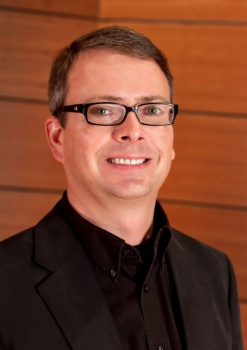 Music Education, Jazz
149 Music Building
Dr. Michael Worthy, associate professor of music at the University of Mississippi, directs the Mississippians Jazz Ensemble, teaches instrumental music courses, and music education research courses. Under his direction, the Mississippians Jazz Ensemble was selected to perform at the 2012 Jazz Education Network National Conference in Louisville, KY. Dr. Worthy has presented papers at conferences across the nation, including the Midwest Clinic, the National Association for Music Education, and several state conferences. He was recently commissioned by Oxford University Press to write on jazz education topics in the Grove Dictionary of American Music and the Oxford Handbook of Music Education. He earned his B.M.E. and M.M. at Southwestern Oklahoma State University and his Ph.D. in Music Education at The University of Texas at Austin.
Dr. Worthy has published research in the Journal of Research in Music Education, the Bulletin of the Council for Research in Music Education, the Journal of Music Teacher Education and Teaching Music. He is a founder and editor of the Southern Music Education Journal and has served on the selection committees for numerous conferences.
Dr. Worthy coordinates and supervises student teaching for the music department and is committed to the professional development of young teachers. Many of his research interests are directly related to his work with developing teachers and he has helped hundreds of college musicians become effective, efficient, and happy teachers.
Dr. Worthy is an advocate for diversifying our musical offerings to include more students in public school music. He frequently performs with his students in clinics and demonstrations for middle school and high school instrumentalists to encourage the exploration of the many subgenres of jazz in big band and jazz combo settings. Dr. Worthy has over ten years of experience as a classroom guitar teacher and is a fervent believer in this particular instrument's ability to foster a lifelong pursuit of music.
Prior to his appointment at the University of Mississippi in 2002, Worthy taught at Castleton State College in Vermont where he directed the wind ensemble and established the Lakes Region Youth Orchestra Wind Ensemble, comprised of excellent high school musicians from Vermont and upstate New York. Dr. Worthy has also held teaching and conducting positions in Oklahoma and Texas. He has been a guest conductor, clinician, and adjudicator in Oklahoma, Texas, Vermont, New Hampshire, New York, New Jersey, Mississippi, Tennessee, and Arkansas.