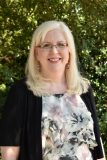 Music Education, Graduate Program Coordinator
150 Music Building
Rhonda S. Hackworth, Associate Professor of Music, serves as Head of Music Education and Graduate Program Coordinator for Music.  She teaches graduate-level music education courses. Before joining the Ole Miss faculty, Dr. Hackworth taught at Rutgers University, Syracuse University, and UMKC. In those appointments, she served as Artistic Director of the Rutgers Children's Choir and Associate Conductor of the Kansas City Children's Choir.
Dr. Hackworth received a Ph.D. in music education/education at the University of Missouri- Kansas City Conservatory of Music and also holds an M.M. in vocal performance. Her research interests include vocal health for music teachers and music perception. Her work has been published in Journal of Research in Music Education, Journal of Music Teacher Education, Update, and International Journal of Music Education. Dr. Hackworth previously served on the editorial board for Journal of Music Teacher Education.
Dr. Hackworth actively presents research at international, national, and state conferences, traveling in the U.S. and to countries such as Greece, China, and Italy.
In addition to teaching and research, Dr. Hackworth also performs as an alto soloist in concert and opera settings, with her most rewarding roles being wife to Matt and mother to Noah.