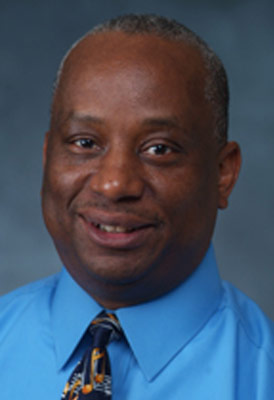 Professor of Music
101 Music Building
Ricky Burkhead is the director of percussion studies at the University of Mississippi, where he has been on the faculty since 1994. Prior to his appointment at Ole Miss he was on the music faculty at Mississippi Valley State University. He holds the B.M.E. degree in instrumental music from Mississippi Valley State University and the M.M. in percussion performance from Eastern Illinois University.
His teaching responsibilities include applied percussion, percussion ensemble, and steel drum/salsa band. He has performed with the Memphis, Tupelo, Corinth and Delta Symphonies and is active as a performer, clinician, and adjudicator in the southeastern United States. He is past president of the Mississippi chapter of the Percussive Arts Society, a member of Phi Mu Alpha and a roster artist for the Mississippi Arts Commission.
Burkhead composes and has conducted clinics in Mississippi, Tennessee, Arkansas, Georgia, Florida, North Carolina, Missouri, Illinois, Argentina, Uruguay and Jamaica. He is a former instructor at the United States Percussion Camp and has been a clinician for the Florida Music Educators Conference, Missouri Percussive Arts Society, Mississippi Music Educators Conference and Mississippi Bandmasters Conference. His compositions and arrangements can be found on the JW Pepper website.
As President of the Mississippi Chapter of the Percussive Arts Society, he hosted several Mississippi Day of Percussion events. He maintains a private teaching studio, operates a recording studio and is an active freelance percussionist.
Burkhead formed the UM Steel Drum Band in 1995. It is the second steel band he has organized in the state of Mississippi. He formed the first band at Mississippi Valley State University in 1986. Both groups were among the first in the entire Mid-South region. The UM steel band was the first world music ensemble organized at the University of Mississippi and has performed concerts on campus, across Mississippi, Florida, Tennessee, and Missouri, and at state band clinics.
Burkhead partners with composer/musician Slade Lewis to provide music for documentary films by Joe York for the Southern Food Alliance, the Ole Miss Law School and others. They have also collaborated on music for a Micah Ginn film.
[ Personal home page: rickyburkhead.com ]
Production videos
Percussion Studio Documents
The following documents are available for download: