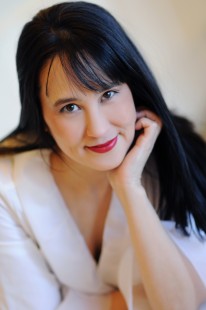 Piano, Collaborative Piano
128 Music Building
Assistant Professor of Collaborative Piano Adrienne Park has a wide breadth of experience performing as a collaborative pianist in chamber music settings and as a pianist within symphonic settings. For six years at The Banff Centre's Music and Sound program, she was the faculty collaborative pianist for the fall and winter residencies, with the central mission of helping resident artists realize their artistic endeavors. She has performed in recital with many renowned artists, including violinists Joshua Bell and Andrew Dawes, cellists Shauna Rolston and Tsuyoshi Tsutsumi, bassist Edgar Meyer, flutists Paul Edmund Davies, Timothy Hutchins and Tara Helen O'Connor, bassoonist Frank Morelli, saxophonist Nikita Zimin, horn player Frøydis Ree Wekre, percussion group NEXUS, soprano Mary Wilson, and tenor Telly Leung. For fifteen years, Adrienne has performed regularly with the Memphis Chamber Music Society.
Adrienne is Principal Piano, Celeste, and Keyboards with the Memphis Symphony Orchestra under the direction of Robert Moody, a position she has held since 2004. In addition to their symphonic series, the MSO performs annually with Ballet Memphis, New Ballet Ensemble and Opera Memphis. She also performs with IRIS Orchestra, directed by Michael Stern, whose roster includes musicians from some of the country's best orchestras, universities and chamber groups. As part of the IRIS chamber music series at the Memphis Brooks Museum of Art, she will soon perform a recital with violinist Nancy Zhou, winner of the 2018 Shanghai Isaac Stern International Violin Competition.
​As a proponent of contemporary music, Adrienne has performed many world premieres. With Kokoro Dance, she premiered Sunyata, Truths of the Blood, Dance of the Dead, Encounters with the Goddess, Sade—Part II, and Embryonic Cavatina. With Joe Ink Dance, she performed in a contemporary jazz ensemble led by composer John Korsrud to premiere Swing Theory and Seven. She co-founded the trio SqueezPlay with accordionist Douglas Schmidt and percussionist David Carlisle, with cellist Shauna Rolston as guest. The group recorded a CD of original works entitled rubber horn with producer Mark S. Willsher, performing the works at the Winnipeg New Music Festival. Adrienne recently commissioned and premiered one of twelve preludes for solo piano from Flower Catalog by American melodist Stephanie Ann Boyd of ICEBERG New Music.
​As a faculty member at the University of Mississippi, Adrienne has been a collaborative pianist since 2001. In 2013, she launched Sonic Explorations, a chamber music series that highlights the talents of music faculty and professional musicians in the region. She recently redesigned the curriculum for Keyboard Fundamentals, a required course for music majors. In addition to teaching applied piano at the University, she has an active private piano studio in Oxford, Mississippi.
​Adrienne studied with Abbey Simon and Ruth Tomfohrde at the University of Houston, and with Robert Silverman at the University of British Columbia.
For more information, please visit www.adrienneparkpiano.com