September 7, 2017
by Anna Herd
OXFORD, Miss. – The UM Music Department is hosting a guest artist recital as a part of the UM Lecture Series. The visiting artist group that will be in a week-long residency from September 18-22 is the Assembly Quartet.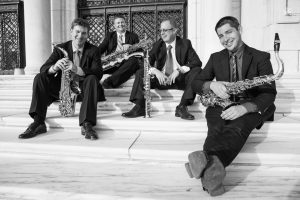 The Assembly Quartet is a professional chamber music group committed to sharing its musical style to schools and communities through concerts and workshops. They have toured extensively, completing residencies in North Dakota, North Carolina, and South Caroline before making their way to Mississippi. Education, however, is the key element to their mission.
Adam Estes, UM assistant professor of music, is the baritone saxophone player for the ensemble.
"UM regularly brings in individual guest artists to perform and teach the students, but rarely is it able to bring in a complete chamber ensemble for a multi-day residency," according to Estes. "This is a unique opportunity for the Department of Music's student body."
During their time at UM, the Assembly Quartet will be coaching student chamber music ensembles and teaching lessons to music students.
The Assembly Quartet will also be holding a New Music Q & A session on Wednesday, September 20th at 11:00 AM in the Music Building and then give a Chamber Music presentation at 1:00 PM in the Nutt Auditorium. This series of events will culminate with a concert on Thursday, September 21st at 7:30 PM in the Nutt Auditorium.
The Thursday concert will be highlighted by the performance of Franco Donatoni's Rasch II by the Assembly Quartet along with UM music professors, David Carlisle and Adrienne Park.
"We are grateful for the support from the Lecture Series, College of Liberal Arts, and the Department of Music for making this possible. It is our hope that the success of this residency will allow for future chamber music residencies to be possible on our campus," said Estes.  
All events are free and open to the public.