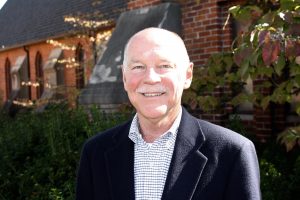 Alan Spurgeon, professor of music and Director of Graduate Studies in the Music Department, has been at Ole Miss for 17 years.

Prior to coming to Oxford, Spurgeon taught at Southwestern Oklahoma State University in Weatherford, Oklahoma for 18 years. There he taught music theory, voice, and music education courses on top of being the Graduate Coordinator for Music. He also taught mostly elementary general music in public school schools across Missouri, Kansas, and Arkansas for seven years.
Originally from Wayland, Missouri, Spurgeon earned his undergraduate degree at Northeast Missouri State University, now known as Truman State University, in geography and United States history, and also received a master's degree in history from the same university. After this, he pursued a master's degree in music from the University of Arkansas, and did his Ph.D. training in music education at the University of Oklahoma. He has also completed Orff and Kodaly training.
Spurgeon and his wife, Debra Spurgeon, ended up at Ole Miss when they decided they were ready to teach at a larger university, so they applied to Ole Miss and got the jobs.
His professional interests include researching music education, which has been in two focal areas: the history of music education in the United States and Anglo-American folk music, particularly the folk music of the Ozarks.
In his free time, Spurgeon enjoys reading and gardening. Him and his wife have also "flipped" several houses, though he notes that he "doesn't do much of the work!" He is also an avid runner, running between six and seven miles each day.
When asked for an interesting fact, he said, "I think others would probably be interested, and maybe surprised to know, that I'm a farm boy, and that my brother still farms the family farm where I was raised."